Rubber knife bayonet for use on a non-firing facsimile of the Yugoslavian P.A.P. M59 (Semi-Automatic Rifle Model 1959). Made by SPORT OPREMA LJUBLJANA. Meaning of the "TSP" logo remains a mystery.
Manufactured by Sport Oprema (Sport Equipment) of Ljubljana, the bayonets were used with rubber-coated drill rifles, also produced by Sport Oprema.[1]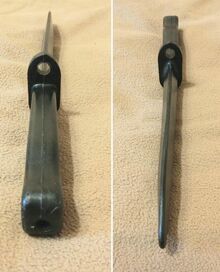 How the drill knife bayonet looks and fits on the rubber facsimile of the M59 P.A.P. can be seen here.[2]
Cite error: <ref> tags exist, but no <references/> tag was found