Analysis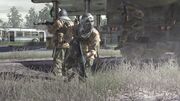 The
Ultranationalists
(also known as
Spetsnaz
in multiplayer) are fictional Russian nationalistic and paramilitary organization featured in the video game
Call of Duty 4: Modern Warfare
, they are active in the year 2011.
Being a guerrilla militia they are equipped with a mix of old Soviet and more contemporary Russian gear. It seems that their nationalistic ideology is not ethnically exclusive as many of them wear keffiyehs, this could mean that their nationalism is based around the Soviet multiculturalism, however, the keffiyeh is typical for the Arabic culture and not for the central Asian Islamic culture.
The following is a list of the equipment used by the Ultranationalists in game (the gear varies between the different character models):
Headgear
Unidentified beret
Generic beanie hat
Generic gray balaclava
Generic gray ski mask
White/black keffiyeh
White GP-5 Gas Mask with standard filter
Generic baseball cap
Torso
Sage green winter M88 Afghanka jacket (depicted with winter mabuta cuffs in 1st person in MWR)
Fictionalized tan Milspex Model 1150 Tactical Vest (with backpack like Shtorm-1 or Shtorm-2 vest)
MBITR Radio
Unidentified radio pouch
Unidentified magazine pouches
Unidentified canteen (US)
Soviet leather harness
Chicom chest rig
Blanket
Unidentified smoke grenades
NRS-2 Survival Knife (curiously, when meleeing in multiplayer they use a Rambo II Knife instead of their NRS-2)
Fictional/custom made gorka 4 jacket depicted without sleeve pockets in urban smog camo (in MW Remastered)
Bed roll
Arms
Legs
Bekas trousers (wooldand tigr (kamysh) camouflaged)
Fictional/custom made gorka 4 trousers in urban smog camo (in MW Remastered)
Hatch Centurion knee pads
Community content is available under
CC-BY-SA
unless otherwise noted.