Analysis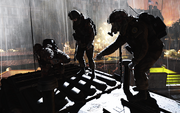 The
Russian Airborne Troops
(also known as
Spetsnaz
in multiplayer) are an elite unit serving under the fictional
Ultranationalist
Russian
government in the video game
Call of Duty: Modern Warfare 2
, they are active in the year 2016.
As an elite army branch, they are well equipped. However, they are strangely designed with many odd pieces of equipment. Firstly, they are depicted with a Ukrainian helmet (Kaska 2M Helmet) instead of Russian one (this is possibly due to developer's mistake or intentionall design choice). They wear obsolete equipment such as GP-5 gas masks. The most interesting item in their design is the fictional red/black/gray/white camouflaged uniforms. The camouflage itself is named "Urban Camouflage", and while it is fictional it seems to be based on the VSR 3-TsV camouflage used by the Russian Ministry of Emergency Situations, the only differences between the two is that the urban camo has red instead of orange, and has additional white color apparently based on the commercial "red" M81 camo. The most appropriate and authentic piece of equipment in this design is the brown Gorka-R uniform worn by some of the models.
The following is a list of the equipment used by the Russian Airborne Troops in game (the gear varies between the different character models):
Headgear
Fictional helmet cover (colored in brown and fictional Urban Camouflage)
Generic three hole green balaclava
Generic one hole black balaclava
Unidentified goggles (possibly Oakleys)
Unidentified night vision goggles
Unidentified night vision goggles mount attached to an L2 G01 shroud
Unidentified helmet light
Unidentified helmet rail mounts
Unidentified helmet strobe light
Torso
Gorka-R jacket
Fictional Gorka type jacket colored in the fictional Urban Camouflage
Fictional black backpack (a hybrid between 5.11 rush assault pack and airsoft backpack)
Fictional vest (a hybrid between few Russian vests: Defender vest, Bagarii vest, Korund vest) with PS-930 Ranger Body Armor plate
Unidentified radio
Unidentified radio pouch
Unidentified magazine pouches
M67 Grenade
Arms
Generic fingerless gloves (the first person model resembles Oakleys)
Legs
Community content is available under
CC-BY-SA
unless otherwise noted.