The
Imperial Gallic Helmet (Type A)
is an iron helmet of Roman origin.
[6]
[7]
[8]
[9]
The Imperial Gallic Helmet A is the first helmet in the Imperial Gallic line of helmets. It originated in the province of Gaul, which was part of the Roman Empire. The helmet was made of various materials such as iron or tinned bronze/brass. It has cheekpieces, and embossed eyebrow decoration that is meant to deflect blows. The neck guard is one-piece construction with the bowl and is much wider comparing to the previous model's one in order to provide better protection of the neck.
The Imperial Gallic Helmet A was developed from the Port Type Helmet, and was meant to replace it. There are two known variants of the helmet, one being the "Axel Guttmann collection" one, which is made of tinned bronze and the other one is the "Nijmegen" one, which is made of iron. The most noticeable difference between the two is the shape of the eyebrow decoration. The helmet was produced by Gallic craftsmen and was used by the Roman Army as their main combat helmet during the Augustan period. The helmet saw action in every major conflict and battle of the early 1st century AD like the famous Battle of the Teutoburg Forest. It was in service up to around mid 1st century AD[10][11] and eventually evolved into the Imperial Gallic B helmet.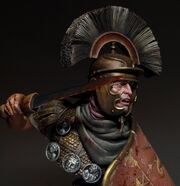 The Imperial Gallic A helmet was classified as such by Henry Russell Robinson in his book "The Armour of Imperial Rome".
"Axel Guttman collection" variant (tinned bronze)
"Nijmegen" variant (iron)
In popular culture
Edit
References
Edit