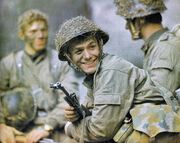 Title
Type:
Battledress
Designation:
Unknown
Place of origin:
Germany/DDR
Produced:
Unknown
Manufacturer(s):
Unknown
Material(s):
Unknown
Evolved from:
Unknown
Evolved into:
Unknown

Service

Used by:
Nationale Volksarmee
Wars:
Unknown
The Felddienstuniform is a battledress of East German origin.[1][2][3][4][5][6][7][8][9][10][11][12][13][14][15][16]
Overview
This page is under construction. More information will be added.
Gallery
In popular culture
The Felddienstuniform is featured in the tv series The Man in the High Castle. It is the standard issue uniform of the Nazi American forces in this alternate reality.
References