The Botas m/967 (Portuguese for "Boots model 1967") are combat boots of Portuguese origin.[3][4][5][6][7]
Overview
This page is under construction. More information will be added.
History
The m/967 boots are manufactured by the Portuguese state company of Oficinas Gerais de Fardamento e Equipamento (OGFE).
Following the Portuguese military equipment designation system it can be deduced that the m/967 boots were introduced in 1967. The French style soles suggest that they were based on the French family of combat boots. The boots were used in the Portuguese Colonial War by the rank and file troops, officers and special forces like the Comandos and Rangers.
After Portugal granted independence to its African colonies large stocks of these boots were left behind in Angola and Mozambique and subsequently were used by their forces in the Angolan Civil War and the Mozambican Civil War. The m/967 were also used by the Rhodesian and South African forces for false flag operations in the Rhodesian Bush War and the South African Border War.
Variants
Marine
The marine landing boots are a special version of the m/967 boots used by the Portuguese Marine Corps. They have a unique whole boot design, lack laces and lace holes and instead are fastened with leather straps. The purpose of the design is to prevent water from entering the boots during landing operations. The soles are of the French pattern and are stitched, they also have reinforcing metal toe-piece. Markings are located inside the boots including the size number being the last numeral. The typical marine boots have two straps and the toe piece leather borders the cuff piece evenly while the BIS Portugal produced marine boots have three straps, the toe piece protrudes into the cuff piece and are distinctively marked on the soles.
Paratrooper
Reference 1, reference 2, reference 3, reference 4, reference 5, reference 6.
Gallery
Videos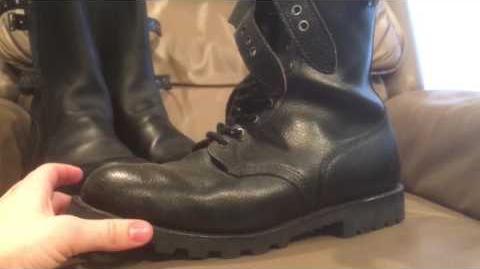 References